For many customers, Zoho CRM is their choice of CRM. That's because it's one of the world's fastest growing small to medium CRM applications. There's one challenge, however. The Zoho CRM and Accounting System is seldom in sync with each other preventing employees from viewing the right information at the right time. The new UPCOMING Zoho Integrator (June 2018 release) solves this problem.
This lack of synchronisation between the Accounting software and the CRM forces the business to duplicate data entry, costing time and money.
How does Zoho Integrator work?
Once set up, Zoho Integrator sits in the background on a Server and automates the synchronisation of data, eliminating double entry and saving time/money.
This screen shot below shows the type of information that can be automated between Zoho CRM and Sage Evolution (100/200) or Sybiz Vision.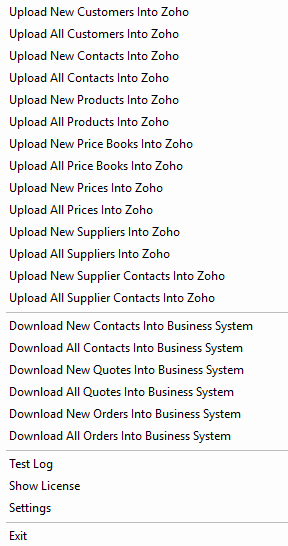 Here's an example of how Zoho Integrator is used:
Take the average business with an admin team sitting at Head Office and a Sales Team in the field.
The team at Head Office knows that Zoho Integrator has been set up to automatically sync data (customers can choose exactly what data to synch at the time of set up) between the Accounting and Zoho CRM. Sales Reps now have access to up to the minute pricing information while out in the field. They can enter quotes and orders directly in front of the customer, knowing the necessary pricing information is direct (and correct) from the authorised Accounting software price book.
When it comes to Head Office, they save time too. Once the Sale Rep has entered their quote or order, these transactions are automatically "booked" into the Accounting and they no longer need to harass the Head Office team to re-enter the data into the Accounting from Zoho. No more delays or finger error mistakes.
This is only one example of the efficiencies gained using Zoho Integrator.
The key to avoiding Double Entry is to have one "source of truth." Zoho Integrator forces the Accounting software to be the source of truth.
It's easy to Trial Zoho Integrator to see how this new application can save time and money. Here's  how:
Ask Plus Software or your Partner to download Zoho Integrator from the Plus Software downloads page (remember, this is a June 2018 release).
Once you've entered your details and applied for the 14 Day Free Trial, it's an easy step to connect your Accounting system.
The API Token from ZOHO is then copied and pasted into the Zoho Integrator.
Set up one or two examples of the type of data you want to sync between the Accounting and Zoho CRM so you can see how it works
Add more data types when happy.
It's as easy as that.
After your 14 day free trial, you can choose to subscribe (see the Plus Software pricing page) with no up front software cost, and no locked in contracts. Note that there may be set up costs with your Partner.
Zoho Integrator is scheduled for release on the 14th June. Right now, a number of customers are using Zoho Integrator in BETA and  if you're interested in becoming a BETA site (there are advantages) you're welcome to apply here. The BETA program ends on Tuesday the 29th May 2018 and the worldwide release is June 14th.
For more information on this or any of our solutions, contact us at info@PlusSoftSolutions.com