Sales.Live users are already familiar with using Quick Entry to manage Sales Quotes, Orders, and Invoices "in the cloud". We're now able to offer new functionality called Detailed Entry feature that will allow Sales Reps to do even more on the go…
More Sales Rep flexibility.
Sales Reps can now access the extended Desktop transaction entry interface on the Cloud/Mobile interface with Detailed Entry. 
A Rep can now:
Save any transaction on Sales.Live BEFORE posting it to the Business System.
Create Sales Credits on the go (nb – permission based setting!).
Detailed Entry allows them to modify, review, or delete transactions on Sales.Live before finalising and pushing them to the Business System.
And if your Business allows this from a Business processing point of view, now Sales Reps can process credits on the fly, instead of waiting to do so back at the office.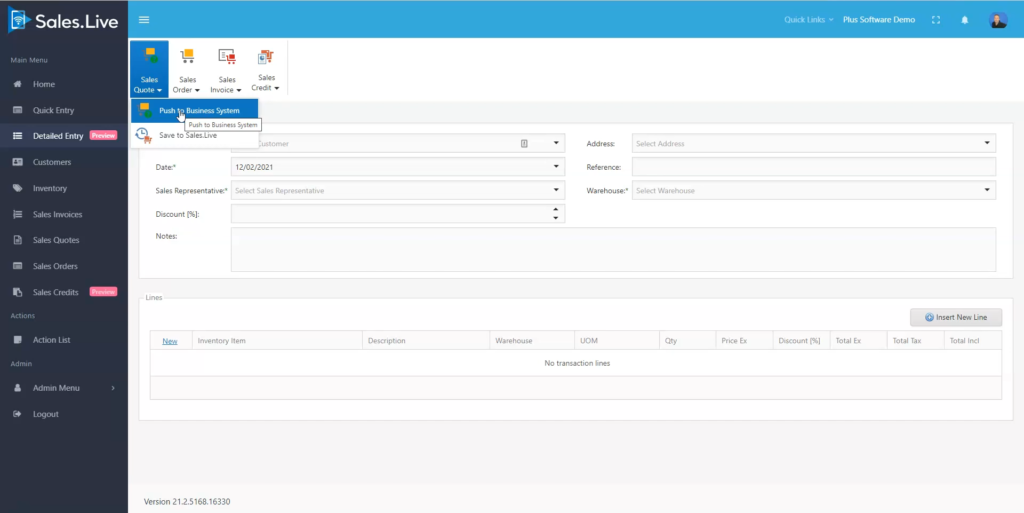 Sales Reps can still use Quick Entry.
Quick Entry is still available and this is handy for entering quick transactions, usually in front of the customer.
IMPORTANT: You can only do Sales Credits via Detailed Entry at the moment.
Powerful but still easy-to-use
Creating a transaction with Detailed View is straightforward and easy.
Visit our help centre for more information or contact us at Support@PlusSoftSolutions.com.